Celebrate our 10th Birthday with us! Just add any Lane's product to your cart and a 30% discount will be applied (In the cart).
** Lane's Products Only
We love all Lane's rubs, but it was especially nice to try a new one! We made grilled chicken fajitas just last night and everyone loved them! Another success!! - Fiesta Rub
Just ordered this seasoning. This is the best honey sriracha seasoning I have ever had in my life and I have been from here to the Middle East!
You haven't lived until you marinate a pork tenderloin in this sauce and cook it low and slow on the grill with some apple wood chunks for some smoke. - Pineapple Chipotle Sauce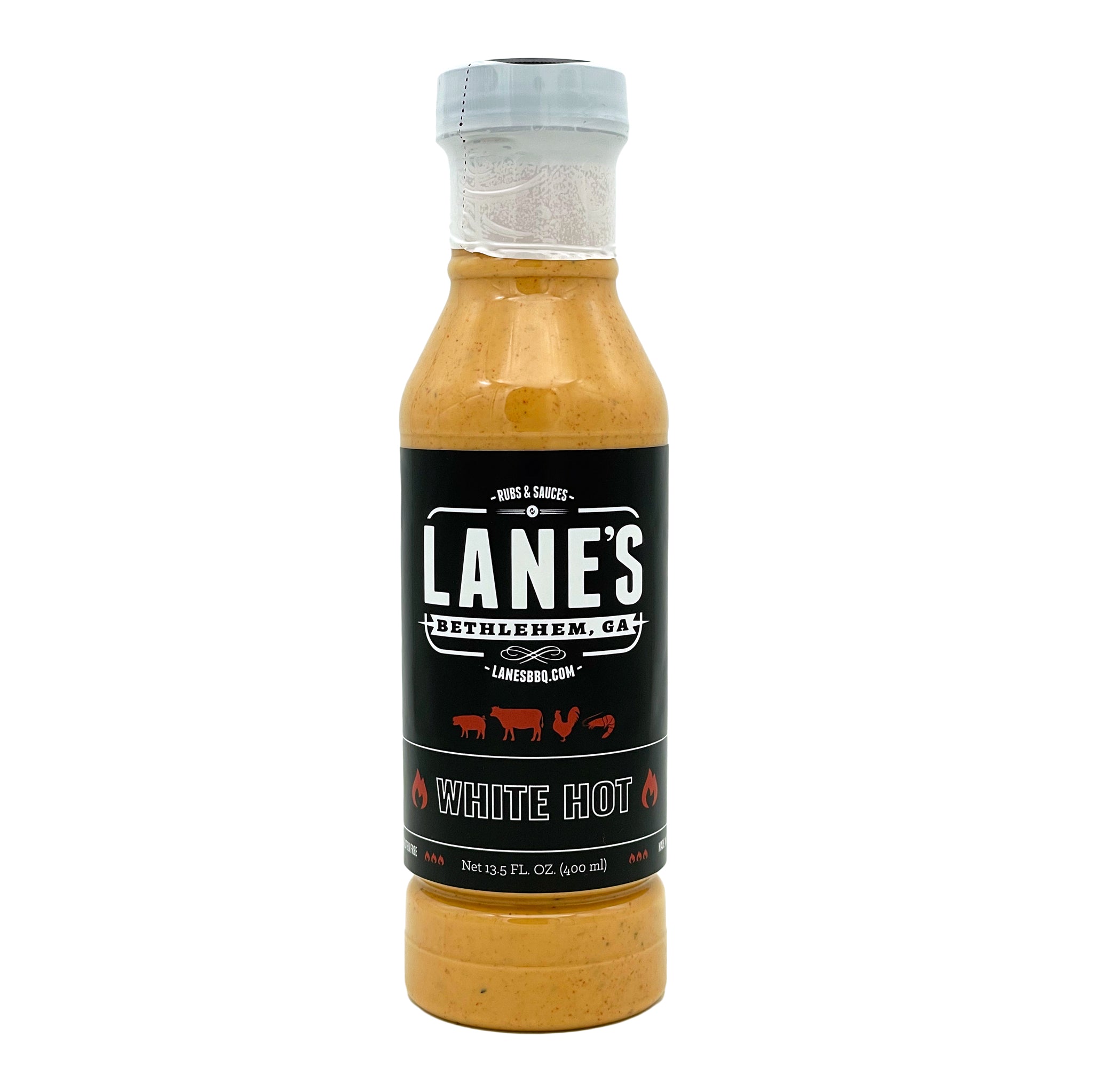 ---
Ya'll heat lovers - this sauce is for you! White Hot takes everything great about our Sorta White sauce with an extra level of heat to set your taste buds ablaze. This a limited edition sauce - only 500 bottles made. Grab'em while we got'em!
**MUST LOVE HEAT!
Lane's Recipes
View all
Appetizers
Dude, let me tell you about these mind-blowing carne asada totchos made with Lane's Chili Lime and Fiesta Rubs. Picture this: crispy golden tater tots loaded with succulent pieces of marinated gril...
Gameday
Hatch Chile Cheeseburger Sliders
Alright y'all, picture this: It's game day, and you're looking to kick off the festivities with a bang. What better way to do that than with some mouth-watering hatch green chile cheeseburger slide...
Chicken
Victory Cigars (Nashville Hot Chicken Cigars)
Alright, folks, let's talk about the mouthwatering masterpiece that is Nashville Hot Victory Cigars. Picture this: a succulent, juicy stuffed chicken breast smothered in the fiery goodness of authe...
Lane's On Good Day Atlanta
The Fast Lane
By Ryan Lane
Checkout more about the Lane's Story, wins and losses, products, and other fun things from Ryan Lane
Go to The Fast Lane
Cubano Cigars - Appetizer
When it comes to gameday, everyone knows that the food has to be top-notch! To help ensure that your guests are more than satisfied on game day, nothing quite says victory like a good cigar. All your favorite Cuban sandwich flavors rolled up in a pork chop and wrapped in bacon... Enough said! Try this out at your next tailgate or for the Big Game. - CHECK OUT THE RECIPE