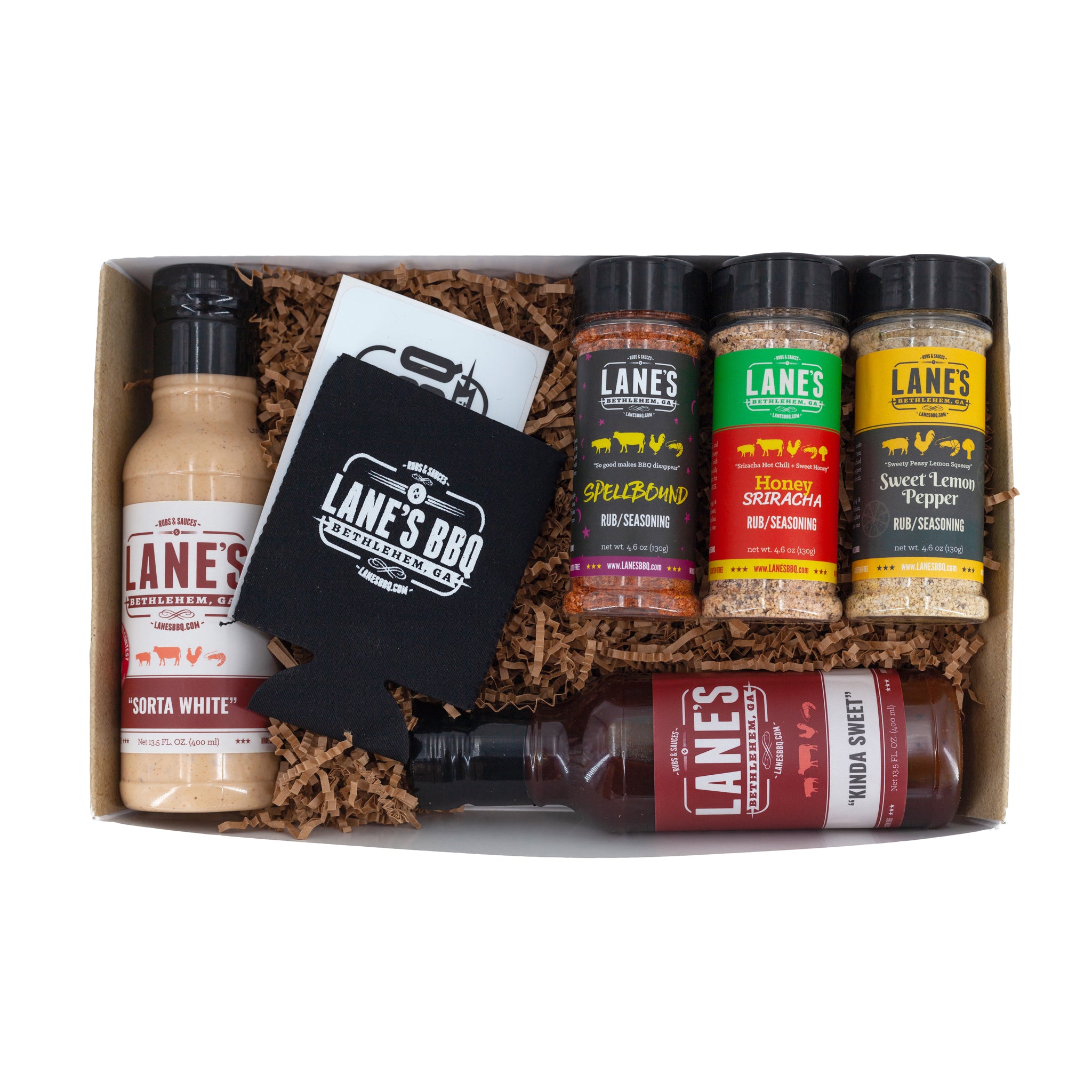 Lane's BBQ Chicken Wing Set
---
Set Includes:
Three 4 oz Rubs (based on the set selected above)
Two 13oz Sauces
Lane's BBQ Koozie
Lane's BBQ Sticker
Lane's BBQ Chicken Wing Recipe:

5 lbs of Chicken Wings
Lane's BBQ Rub
Cherry or Applewood chunks
Instant read thermometer
Lane's BBQ One-Legged Chicken & Sorta White BBQ Sauce
Remove wings from the fridge and liberally season with Lane's Rub of choice. (I let them sit at room temp on the counter for 30-45 minutes before placing in smoker)
Set up Grill/Smoker for indirect cooking @ 350 degrees.  I would always aim for 50 degrees higher than you plan on smoking them at.  That way once you put the wings on the temp will settle in around 300 degrees.
Once the grill is around 350, toss in a handful of wood chunks, stir around with ash tool, place in indirect plate setter, then the grill grate.  Place wings on grate and close lid.  I usually flip these 1 time after about 20-25 minutes.  Then,  I smoke until the internal temp is around 185-190 degrees.  Once the internal temp is reached, I pour the bbq sauce into a bowl and toss the wings in the sauce.  Then, I place them back on the grill for another 10-15 minutes so the sauce will start to caramelize.  Then remove… let rest for about 10-15 minutes… and enjoy!!
This product has no reviews yet.